mayonakaotaku
Okay! I went to the Sydney 2011 Kpop Music Fest yesterday. I'm not much of a Kpop fan (well fanatic kpop fan, I like some of it lol); I know the names of members from uhh DBSK, SNSD, KARA and random members from the other 9 groups that came, so I apologise for all the vagueness XD
ANYWAY MOVING ON. It was AMAZING *_* First time concert experience and I was bown away, even from my silver seating which wasn't great but I could see everything from where I was so it's okay XD
Apologising now for the general crappy shots because we were far away and my camera(s) suck XD And my one with the slightly better zoom died right before DBSK performed LOL
Once we got to Olympic Park, the train station attendant was all "Welcome to Olympic Park and ANZ Stadium! If you're here for the Kpop Concert, just keep going forward and to your right!". LOl I really was wondering if these people actually knew what was going on AHAHA~ XD
Before I get to the actual concert, the morning and afternoon at Olympic Park had activites, so there was food, PopAsia stand playing MVs and Korean games? Oh and Merchandise. THEY ONLY HAD CONCERT TSHIRTS AND LIGHTSTICKS. BUT ALL THE LIGHTSTICKS SOLD OUT BY THE TIME WE GOT THERE. LAAAAAAAAAAAAAAAME~ D: AND CONCERT T-SHIRTS WERE $50 EACH. They didn't even look all that great to me XD. So we were chilling around and waiting for people before we were let in at 5-5:15pm. Lots of flash mob cover groups performing on the PopAsia stage, some of them were really good! Some were just....bad and really out of time :/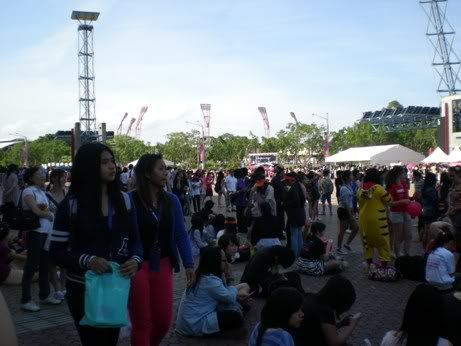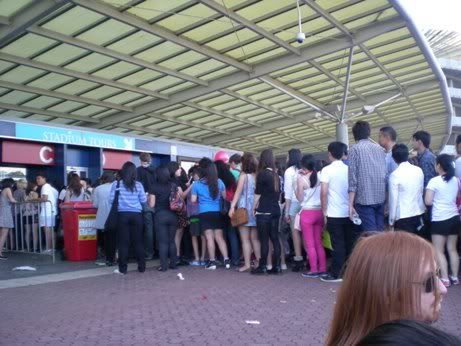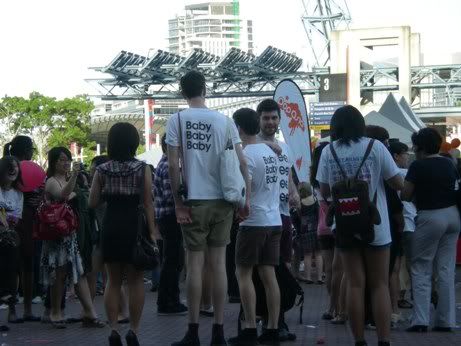 LOL I just...had too XD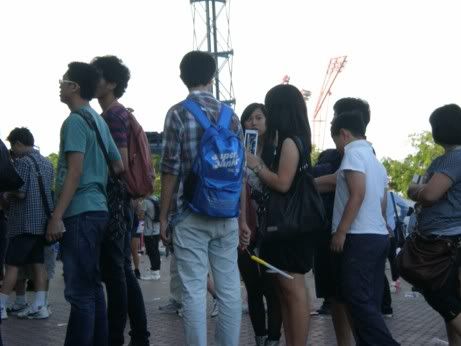 Looks like Sofa wasn't alone with her Suju lightstick, there were plenty of people with Suju merch~ oh and BIGBANG stuff too XD
There was also this Hyundai marqee where you could take photos with life-sized cutouts of the idols...Ummm...no XD I'm not THAT sad. Also I couldn't get a pic of the cutouts because the line was flipping MASSIVE O_O
At about 4pm maybe? people started running towards this white van, thinking that the Kpop stas have arrived; everyone was bat shit crazy. It only turned out to be.........
MYCHONNY. LOL OMG THAT TROLL XD if you don't know who he is, he's this famous youtube person, does a lot of comedy things.
He got a LOT of VIP treatment. EVERYONE was surrounding him and he even got to go into the stadium early! His only statement was "I'M HERE TO SEE (SNSD's) JESSICA!!!" BWAHAHA ~ oh man~ I'm pretty sure we saw his friend who appears in his videos often too (The fag?) but yeah, he didn't get a crowd but people were asking for autographs and pics and stuff ahaha~
Finally we got to go in! A very quick bag check for alcohol and drugs and massive cameras I guess, and we were in. We were free to take photos and fancams :)
Okay, seeing as we were kinda poor and didn't care as much for the groups that did come (for this I was supporting DBSK mainly XD), we got Silver seating, which was kinda far away from the actual stage area but hey! We could still see everything without having to look at the screens XD
Here's my view from my seat before the start of the con~
Oh and right above us in the higher stands, there were these MASSIVE silver balloons letters saying, "YONGSEO" oh my god XD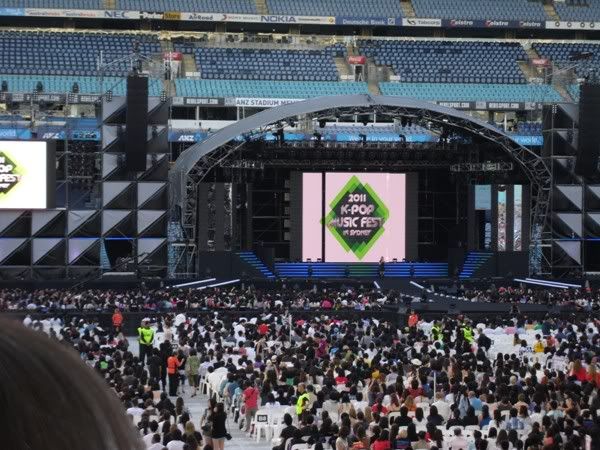 Zoomed in~
OH and the seating plan from the website. Circled bit was my seat XD
It was almost time for the concert to start! So a word from the sponsors! Well...the Korean Cultural Office I think, and ambassedors, one of them spoke in Korean at first, and his innotation of "Kpop" was kinda hilarious. Lots of emphasis on "Pop" LOL
Then this 4 minute countdown showed up on the screen and the 12 artists were put into different categories such as "POWERFUL" "CHARISMATIC" etc.
THEN SHIT. SHINEE CAME OUT AND STARTED PERFORMING "LUCIFER". EVERYONE GOES COMPLETELY NUTS 8DDDDDD Concert started off with a bang!
After that was "Hello" and then "Ring Ding Dong". SPAZZING SO MUCH AND THE CONCERT ONLY JUST REALLY STARTED XD Most of the people in my row were trying to do the dance moves in our seats, so awkward and fun~ XD
They had so much energy!! But I think the thing I remember the most was Key's leggings. THEY WERE FREAKING HIGHLIGHTER YELLOW IN COLOUR LOLOLOLOL He stood out so much, along with Taemin and his blond hair XD
After that they had small MC section where they talked about coming to Sydney back in January and thanking the fans for supporting them and the other Kpop artists for the night. Basically all the groups said some things along the lines of continuing the Kpop love and saying that Australia was a very warm and nive place to be in, and they got a very good reception :D I *think* one of the groups talked about having really good food in Sydney, but I don't remember who that was LOL
I should probably say now that all the groups performed on Stage 1, and then for their last song they'll go down the walkway to stage 2 lol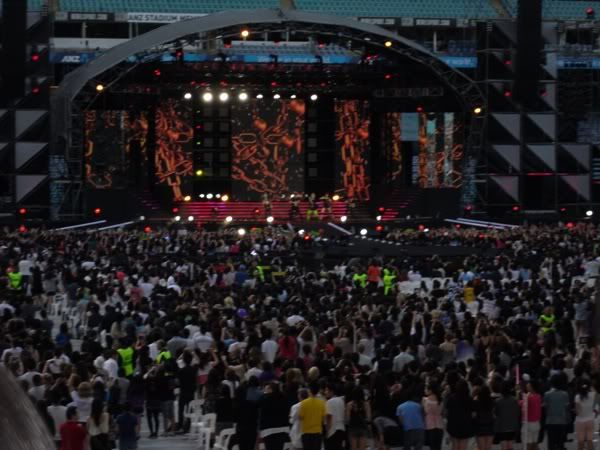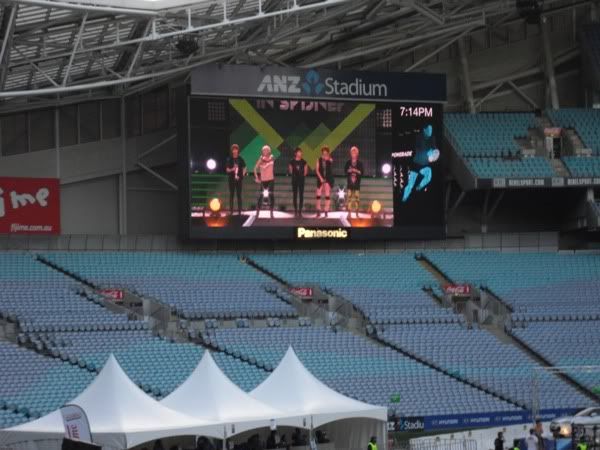 They left the stage and seeing as this event was being filmed for MBC, the MCs for the night was SNSD's Yuri and Tiffany :D
So pretty~, Tiffany wore a white evening gown and Yuri was in this green one. Tiffany obvious spoke in English for half the time, woohoo :D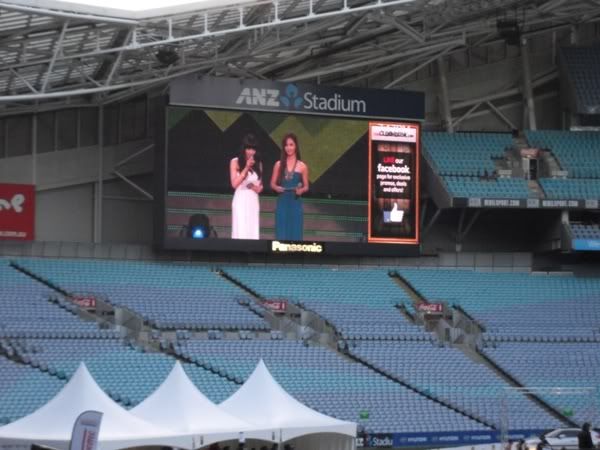 miss A came out to perform "Goodbye Baby" in white outfits~ with a little dance break in the middle. They did a little MC where they taught us the little pointers during the "You dont know me, you don't know me, shut up boy" lines ahaha which lead into "Bad Girl Good Girl" :D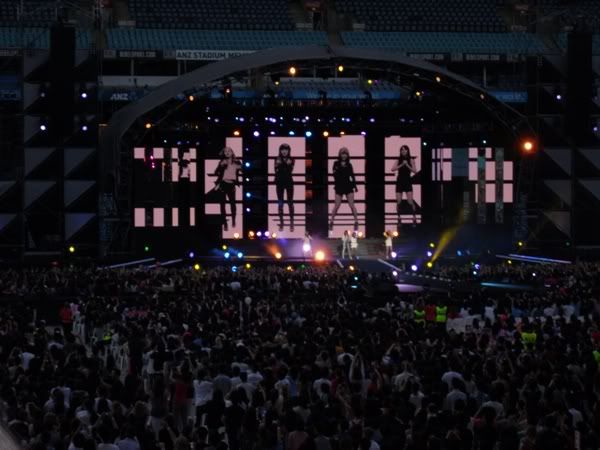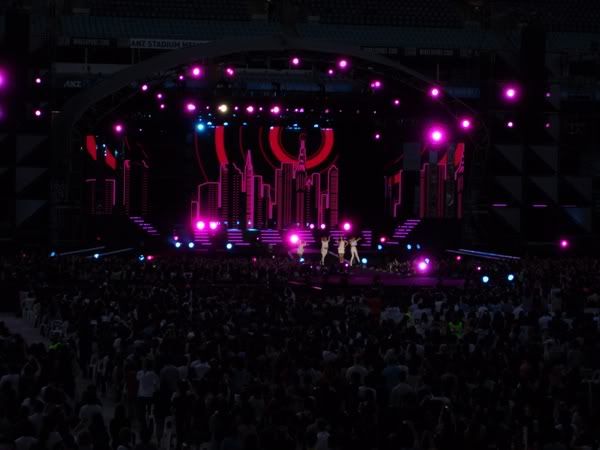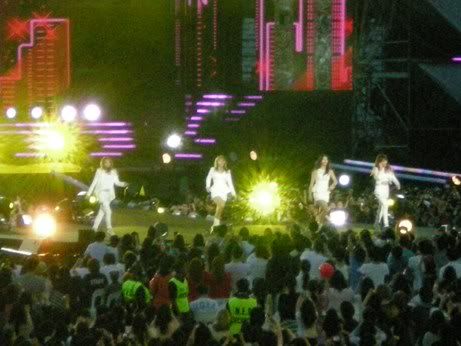 SISTAR came out after that in these reeeeeeeeally sparkly pink dresses (blinding!) to perform "So Cool", "How Dare You" (I think it was that XD) and then chairs were brought out for "Ma Boy" from the SISTAR 19 subunit XD My guy friend were already going nuts when they brought out the chairs AHAHA~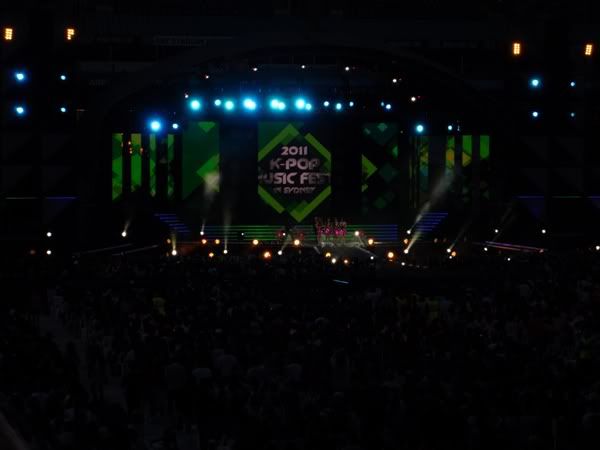 Then came 2AM! The boys stood lined up on the second stage in the middle of the stage and sang "Can't let you go even if I die", a song I don't know the name to, and "This Song" after their mini MC Ahhh it was lovely~ Whenever Jo Kwon sang, everyone screamed lol that guy is awesome >.< For "This Song" I think the boys spread out down the walkway on stage 2 and sang there XD
MC time from Tiffany, and onto a special dance stage from some members of SNSD and 2 SHINee member (one of them being Taemin XD) Nice~~ :D
Secret was up next with "Love is Move", "Madonna" (lots of us going MADONNA DONNA~~!! with moves here XD) and Starlight, Moonlight. It was all very cute lol and I realised that I didn't get a pic of them, okay I did, but it's a sucky one :/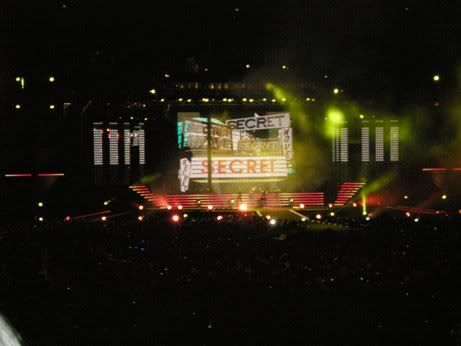 After that bam! A collab between Jo Kwon, 2 girls (one from SISTAR) and another guy and they sang Beyonce's Halo!! ahaha it was pretty cute :D
The stage goes dark again and green laser start up everywhere. IT'S B2ST!! SO FIERCE OMG! They each had a small dance solo before singing "Shock", "Fiction" and "Beautiful". oh it was WONDERFUL, SO MUCH ENERGY AND WOAHHHHH XDDD IT WAS GENERALLY SO COOL :D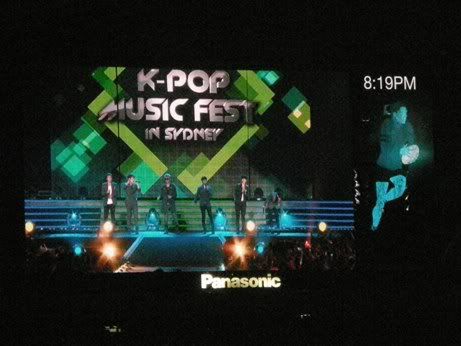 Then this was when everyone got REALLY excited. SNSD! They sang "The Boys (Korean Version)", "Kissing you" and "Gee". Lol "Kissing you was a surprising choice, I would have preferred Genie, but okay XD "The Boys" live is NUTS, SO FIERCE. During "Kissing You" they went down the walkway to stage 2 and threw stems of roses to the crowd. And "Gee"? I'm pretty sure EVERYONE in the stadium was dancing and singing to "Gee", oh man~~ it was heaps of fun XD They were wearing those MVs outfits from "The Boys", speciafically the ones from the main dance shot, with the blue background and glass floor lol Everyone was dying ROFL
AND OMG! This one dude who was sitting right behind us was going all out. "TAEYEON SARANGHAEYOOOOOOOOOOOOOOOOOOOOOOOOOO!!!
11!111!111!!!!1!!" all throughout the time SNSD was performing. Omg XD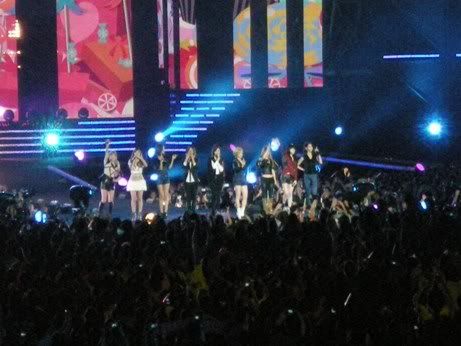 Another special stage with CNBlue, G.O. from MBLAQ and Yoseob from B2ST sang a song, dunno what it was called but it was pretty good :D And there was a little bit of fan service going on LOL~ :D EDIT: Run Through the Sky by Lee Juck was the song they did :D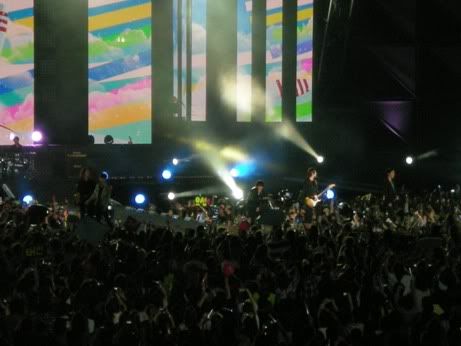 4Minute was up next in red outfits with "Mirror, Mirror", "Musik" and "Hot Issue". Intense! Lots of singing along here as well~ and my friend Sofa was all "THEY HAVE SUCH NICE LEGS!" True that! lol and my other guy friend was like DYING and fanning himself because he loves Hyuna LOLOLOLOL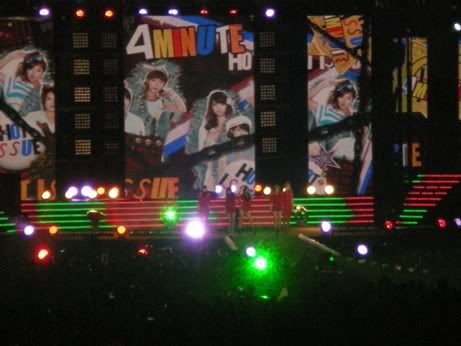 More darkness! It's MBLAQ! YEAHHHHH 8DDDDD and even more lasers and crazy lighting effects XD Possibly fire too, I think. They performed "Y", "Oh Yeah" and of course "Mona Lisa" :D Thunder spoke in English and introduced the members, omg it was adorable QAQ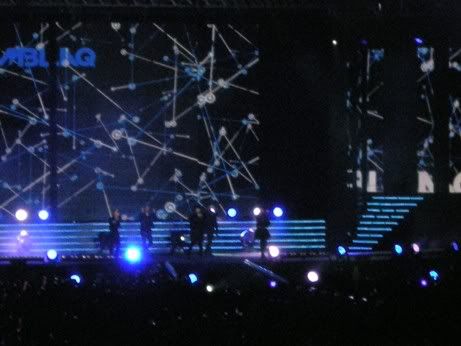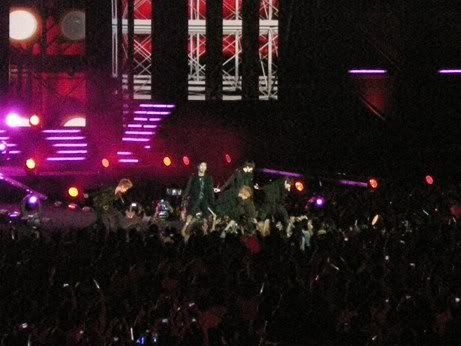 The bringing out of the drums and guitars signalled CNBlue coming back to the stage~
Performing "Intuition", "Love" and "I'm a Loner". OH they're so awesome live~ and ARGH YONGHWA 8D OH! Again, this time a girl sitting behind us was screaming "JONGHYUUUUUUUUUUUUUUUUUUUUUUUUN" holy crap she was LOUD. Half of my friend's hearing must have been gone because of her! XD I felt bad for Minhyuk though, seeing as he plays the drums he can't move around the stage like eveyone else :( Will spam lots of CNBlue because most of the time they stayed put for me to get okay-ish shots! LOL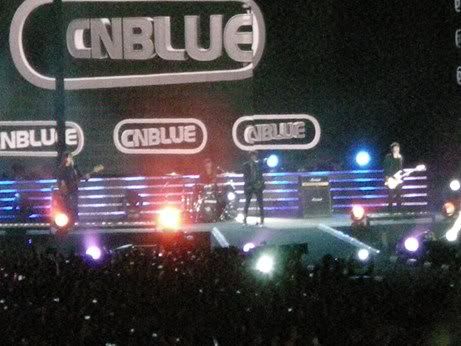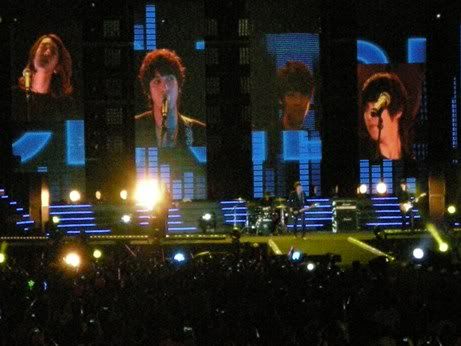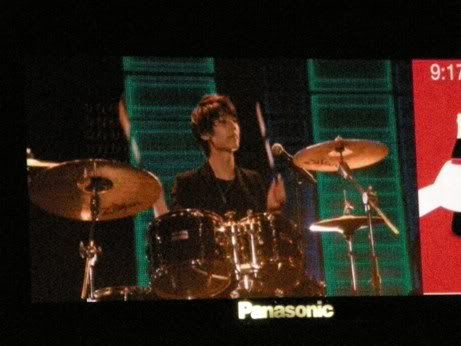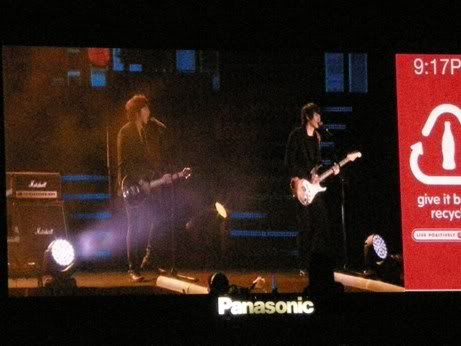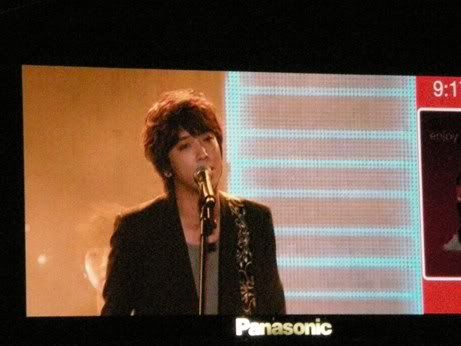 Up next was another joint stage with miss A and 4Minute singing Kylie Minogue's "Can't get you out of my head" in black outfits with gold details? Well....that was unexpected LOL but it was nice. Also during that performance these weird characters made by the lasers were shown above the stage, shaking their butts ROFL XD
KARA was next! Wearing black and white outfits like those yellow x black ones from the STEP MV, they performed "STEP", "Mister" and "Lupin". HEHEHE IT WAS AWESOMEEEE :D Lots of singing along in my row here as well for all the songs :D They're so cute^^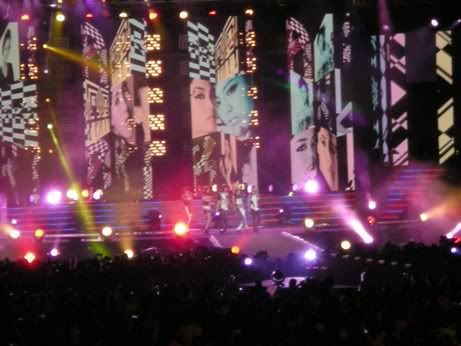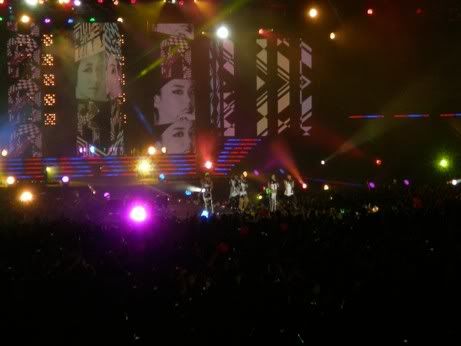 THEN. FINALLY WHAT ME AND SOFA WERE WAITING THE WHOLE NIGHT FOR. DBSK CAME OUT. OMFG WE WENT BATSHIT CRAZY. SO MUCH SCREAMING AND SHAKING AND CLOSE TO CRYING/FAINTING. IT WAS SO HARD AFTER CLOSE TO 3 HOURS OF JUMPING UP AND DOWN AND SCREAMING, BUT WE STILL MANAGED TO GO ALL OUT FOR DBSK! And they didn't disappoint! They performed "MAXIMUM", "Before U Go" and "Keep your head down". IT WAS.....MIND BLOWINGLY FANTASTIC. UNF OMG!!!!!!! CRAZY INTENSE, HOT, SJCKSHFI EVERYTHING 8D Intense stares at the camera from both of them during "Keep your head down", especially from Changmin, HO SHIT HE LOOKED SO GOOD STARING FROM UNDER THOSE BANGS. AND HECK THEY HAD GOOD HAIR!! :D MC bit was sooooo good :D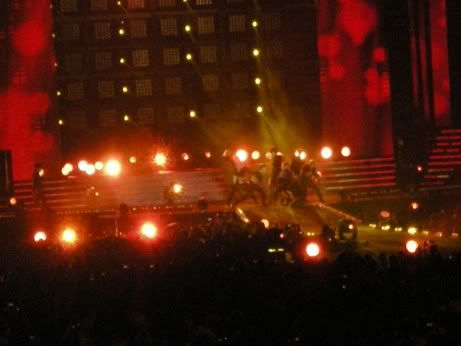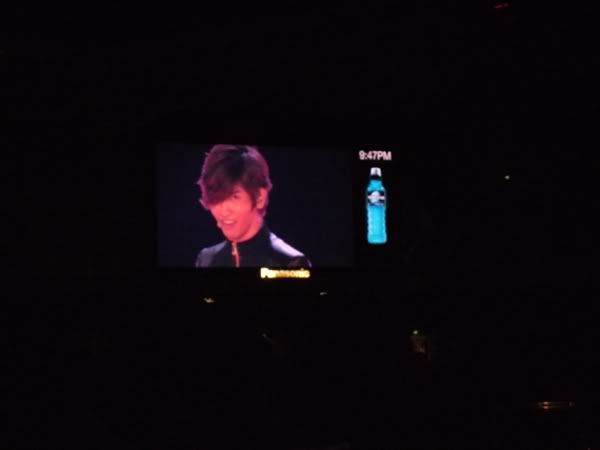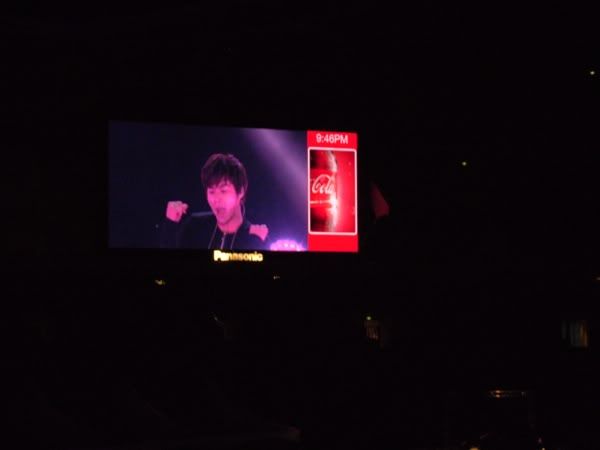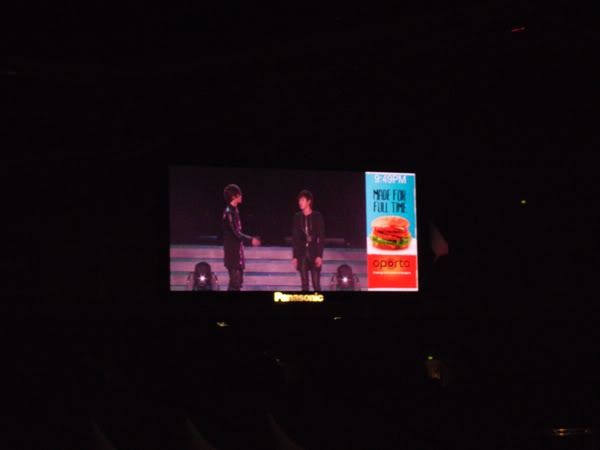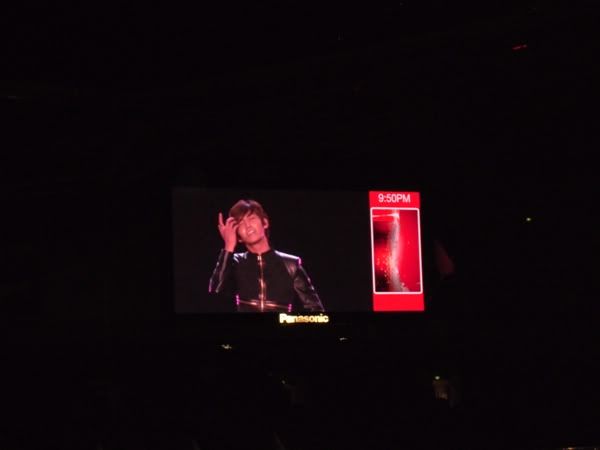 FInally the concert came to a close :( All the artists came out again for a finally greeting and sang a song (no idea what though) and then they walked out again. All I remember is seeing Key prancing about when the camera just happened to show him on the big screens XD
And that's it! Overall it was an AMAZING night. I hope it'll happen again :D So much fire, lighting, lasers, fireworks and awesomeness rolled into one XD
Only complaints I had were more merchandise (!!), better sound system, there were a few times when the mics sort of died :/, and it was really annoying to see one of the screen panels stuff up and going static during the con. It was fixed but still XD
Other random stuff here~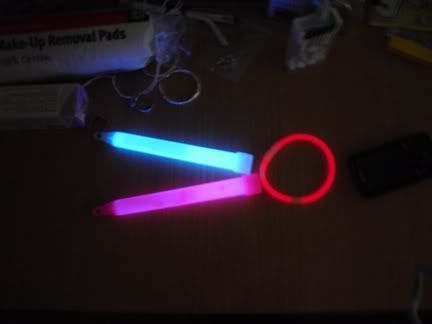 My glowsticks I brought along with me and the red one was given out by the Cassies along with the red balloons to create an Ocean of Red. Not sure if it worked but I did see quite a bit of red in the crowd when DBSK came on~
When most of the girl groups were performing, one of my guy friends stuck the red lightsticks up his nose to signify nosebleeding, that idiot XD
AND DAMN. I REALLY HOPE ANY JPOP ARTIST COMES DOWN HERE FOR A CONCERT ONE DAY ;_; I'll cry, seriously. If I'm like this for Kpop artists I half care about, I don't know how I'll be when I see NEWS or Tegomasu in concert *_____* ahaha
I hope you enjoyed this fan report. Hope it happens again! :D