I was bored, and this was cute :D Follow the number to correspond them with the pictures.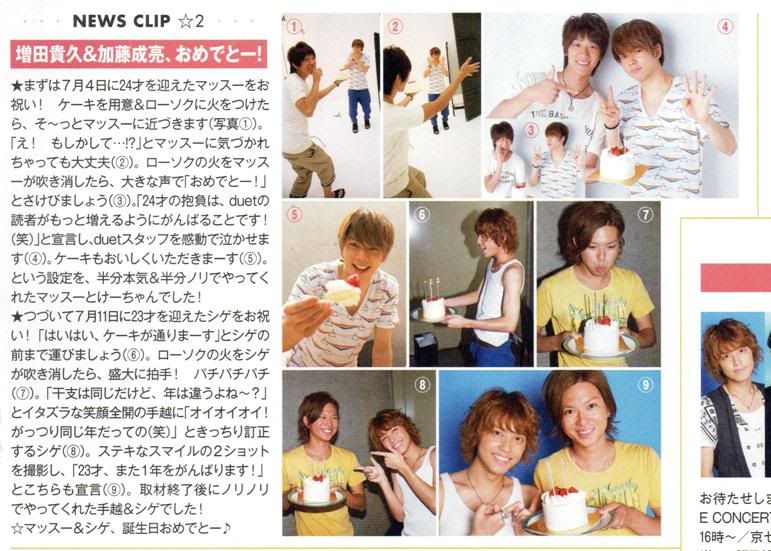 ★Firstly, we met up to celebrate with Massu who turned 24 on July 4th! We prepared a cake with the candles already lit, and quiet~ly approached Massu (Picture 1). "Eh! Could this be...?!" said Massu, but it was fine that he already noticed us (2). Massu blew the candles out in one go, and in a loud voice we yelled "Congratulations!" (3). He declared that "My wish upon turning 24 is that Duet will get more and more readers! (laugh)" and the Duet staff were very moved and on the verge of tears (4). The cake was also really delicious~ (5). With that, this has been done with half-seriousness, half-hyperness, Massu and Kei-chan!
★Next was Shige who turned 23 on July 11th! "Okay okay, the cake is coming through" as a cake was carried in front of Shige (6). A round of applause when Shige blew the candles out in one breath! *clapping* (7). "We have the same Chinese zodiac, but the age is way different right~?" a mischievous smile cracked on Tegoshi's face "Hey hey hey! We're definitely the same age (laugh)" Shige immediately corrected him (8). A photo was taken of the wonderful smiles in the couple shoot "I'm 23 years old, I'll give it my all through another year!" was his resolution (9). This has been the high-spirited Tegoshi and Shige after the magazine interview!
☆ Massu and Shige, happy birthday ♪
-----------------
WHO'S EXCITED ABOUT THE DETAILS OF THE
NEWS LIVE ALBUM? 8D
I honestly have not been able to sit still since I heard about it lol
*looks at her wallet and cries* BUT IT'LL BE WORTH IT :D